BE PREPARED AND PROTECTED FOR LESS THAN 21¢ PER DAY!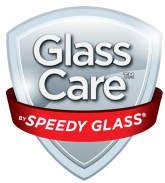 On today's busy roads, windshield chips and cracks are not just a possibility, they're almost a certainty. In fact, in a recent survey, one in three Ontario drivers polled said they have had to repair or replace their windshield in the past two years.* Combine these odds with today's rising insurance premiums and deductibles, and it becomes clear that GlassCare™ by Speedy Glass® gives you the protection you need.
---
GLASSCARE™ BY SPEEDY GLASS
Speedy Glass' GlassCare™ Vehicle Glass Protection Plan offers one-of-a-kind protection available exclusively through Speedy Glass®. Available only in Ontario.
With GlassCare™, you benefit from: